Compassionate and affirming people come in all sorts of types. At Augustine you are free to be yourself. You are free to choose which parts of the service to participate in and don't have to do anything that you don't want to. For example, you can decide to not shake hands, greet people or sing.
We have provisions in place for a variety of access needs, described below, and all are welcome to attend at any time. If you would like to discuss individual arrangements, please feel free to contact us and we will work with you. Child-specific information is available here and LGBT+ information available here.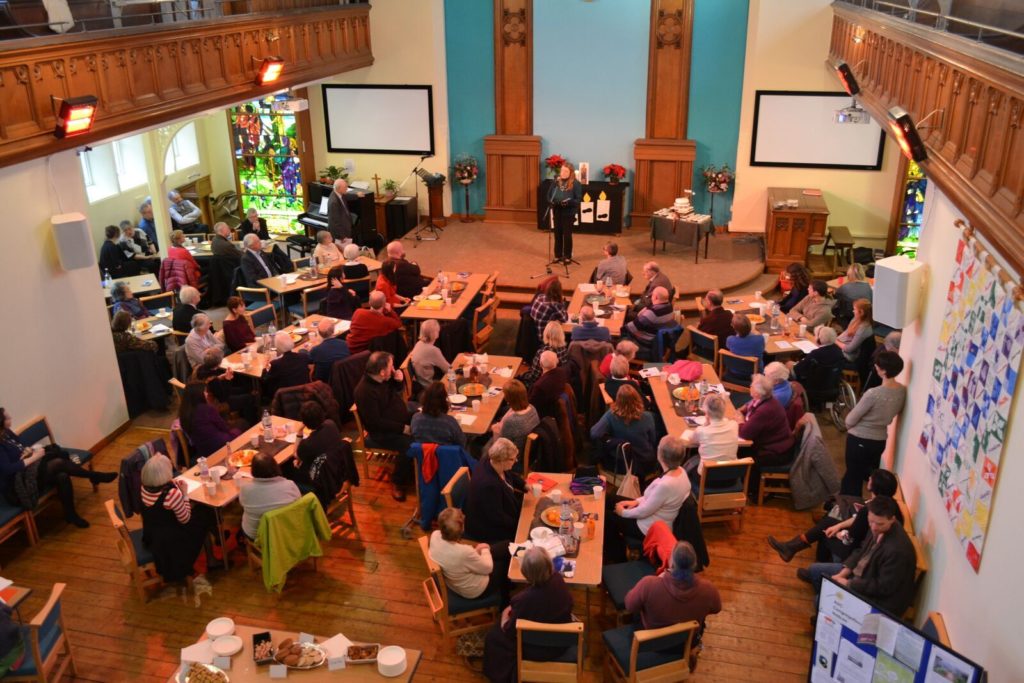 Physical Access
The main entrance to the church is up four steps with a handrail. Step free access is available via a door to the right of the building, please ring the bell for attention. Please note that there is a tight turn in this passageway. Access to the sanctuary and ground floor level for Sunday services is step free. There is no need to make advance arrangements.
There is lift access to the lower levels of the building (for events held in Mull and the Studio). If you require use of the lift, please contact us in advance so that we can ensure that the caretaker is available to assist. A standard accessible toilet is available on the ground floor and lower level.
Sensory Access
The Sanctuary has a hearing loop which is used every Sunday. Hymns are projected on screens at the front of the church. We have standard, large print and braille hymnbooks available on request (ask the greeters at the door). We are also able to provide the worship PowerPoint, including hymn lyrics, in advance if required. The worship PowerPoints use dyslexic-friendly fonts and formats.
Mental Health
Augustine has strong pastoral links with the Royal Edinburgh Hospital and is home to a monthly drop-in run by chaplains of the Hospital. You can find out more about our mental health ministry.
Sunday services are relaxed and you are welcome to move around the sanctuary or take a break in the foyer at any point during the service.
Invisible Needs
We realise that many disabilities and needs are not immediately visible, nor easy to express to others. Our community is diverse, and in services and church groups both children and adults are welcome to come as they are. We have a relaxed approach and understand that sometimes people make noise or behave in ways that might seem out of the ordinary. We recognise that understanding the service can be challenging and you are always welcome to discuss its meaning afterwards with either the minister or other church members. You are also very welcome to contact the minister in person or via email for clarification or discussion of themes. Additionally, people of all abilities are very welcome at our Bible study and book groups.
Communion Accessibility
Our Communion wine is alcohol-free and gluten-free bread are available. All are welcome to participate or not, as they feel comfortable.