Our Story so far…
Our church community was founded in 1802 by John Aikman, and in 1861 moved from its 'dark, dingy, comfortless' first home (sold to make way for the national museum in Chambers Street) into the present building, expressing by its architecture an imaginative, forward-looking, unconventional spirit well suited to the congregation's independent principles.
The church has changed with the times. Unions with a number of congregations have led to several changes of name and to a constantly revitalized congregation.
Over the years, many alterations have been made to the building, including glazing the doors, extending the foyer and removing the pews and high, central pulpit to create a more flexible, open area suitable for worship, public meetings and concerts.
With generous grants from the Heritage Lottery Fund, Historic Environment Scotland and the Scotland's Churches Trust, and the remainder being raised from within the congregation, the exterior of the building, including the tower was renovated in 2002-05 and the building made fully accessible.
In 2016, with further support from the Heritage Lottery Fund, Historic Environment Scotland and Allchurches Trust Ltd, we undertook a further, exciting heritage project. This involved re-slating the roof of the building, adding a layer of insulation to assist with energy conservation, and upgrading the audio visual facilities inside the church itself. The project has also provided enhanced visitor information, promoting the church's architectural, cultural and theological heritage to a wider audience, including the many thousands of annual building users.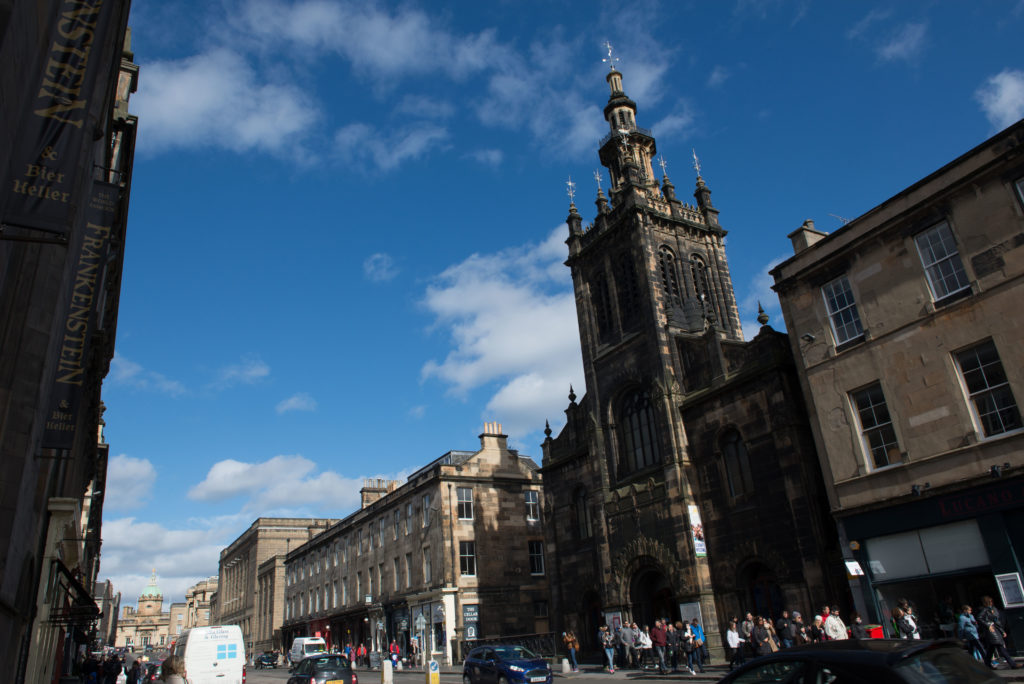 Supported by a new, permanent exhibition, audio visual and print resources, we have trained volunteers as guides in order to offer people more detailed and informed tours of the building. We are telling the evolving story of the congregation, the building and the surrounding culture of the Old Town, from its beginnings in the early 19th century to today.
Our 2016 history, 'The Church on the Bridge', tells the story of our congregation. It brings up to date the work of earlier members of our congregation who have recorded our history across the years. It also attempts to place the story of Augustine within its social context. It is available in an accessible and fully illustrated booklet form.
You can also read the complete history here, divided into eight manageable sections: