The Jesus' Prayer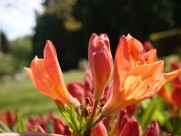 A version by the Lord's Prayer from the Anglican Church in Aotearoa, New Zealand and Polynesia. Words by Jim Cotter.
Eternal Spirit: Earth-maker, Pain-bearer, Life-giver,
Source of all that is and that shall be,
Father and Mother of us all,
Loving God, in whom is heaven:
The hallowing of your name echo through the universe!
The way of your justice be followed by the peoples of the world!
Your heavenly will be done by all created beings!
Your commonwealth of peace and freedom sustain our hope and come on earth.
With the bread we need for today, feed us.
In the hurts we absorb from one another, forgive us.
In times of temptation and test, strengthen us.
From trials too great to endure, spare us.
From the grip of all that is evil, free us.
For you reign in the glory of the power that is love, now and for ever.
Amen
RAINBOW PRAYERS ????
The following prayers were written by Harriet Davidson as part of our service on Sunday 28th February 2021:
Rainbow God,

You held us this week in red, in our rage. In the moments when our frustration, anger and resentment turn destructive, meet us in our weakness and challenge us to be better.

You cheered us this week in yellow, in the welcome, yearned for sunshine, in the resilience of the crocus, undefeated by the snow and frost. Help us to share our joy at your world, to marvel at the bounty of your creation.

You surprised us this week in orange, in the fiery ball of sunset, in the new season's marmalade, in the energy and enthusiasm of our younger children returning to school. Help us to feel and express our gratitude, energise us that we may energise and motivate others.

You resurrected to us this week in green, in the purity of the snowdrops, the first sticky buds, the bird song. Teach us to continually see your wonderful world anew and be inspired afresh to steward it more responsibly for future generations.

You held us this week in blue, at times when we felt submerged by the suffering, the loss. Tend those who are grieving, and help us to create time and space to acknowledge our own sadness and loneliness as well as that of others.

You warmed us this week in indigo, in the loving relationships with family and friends that keep us going and in the pastimes that bring us contentment – the good read, the finished jigsaw, the unexpected phonecall. Help us to nourish each other and remind us to love as we are loved, without reserve.

You bathed us this week in violet, your majesty, your vision, your splendour. Covenantor God, as we flail and fail, teach us to be healed and healer, to hold to what is good and to place our trust in you.

Amen
An Orkney Blessing (adapted by Rev Sue Kirkbride)
May the song of the birds rise up like Christ, and fill your heart with love.
May the vigorous Orkney winds blow away fear and sorrow, and energise your soul.
May the outpourings of God's love in your life be as boundless as the tumbling waves upon the shore.
May the glorious Orkney sunsets bring you deep peace and the rainbow's promise strengthen you with faith and hope.
Today & always.
Amen.