At AUC we strive to provide a wealth of opportunities for our youth to flourish and be affirmed as children of God. All programme volunteers are PVG checked and follow URC Safeguarding policy.
Ages for groups are guidelines and participation depends on the preferences of the individual child. Our activities are flexible and can be adapted to meet a wide range of needs and abilities. You can just turn up or you can speak to us in advance if you have any questions or concerns. Provisions for families include:
Changing tables, one on ground floor and another on the lower level
Space for buggies
Noise from children is welcome
Instruments available, to use during the hymns
Creche (0-3)
Babies and young children are welcome to stay in the service, but we also provide a crèche with PVG-checked volunteers, toys and games.
Junior Church (3-12)
AUC Junior Church offers children and young people a safe and friendly experience of the Christian community where they can feel respected and valued. Our activities range from baking to movie-making, creating collaborative pictures to co-operation games. We meet during the Sunday morning service.
The children participate in the beginning of the main service and then leave for Junior Church, often returning at the end. Four times a year we celebrate all-age worship, and children are invited to participate in delivering the service if they want.
To find out more e-mail juniorchurch@administrator.org.uk
TLC Youth (S1 and Up)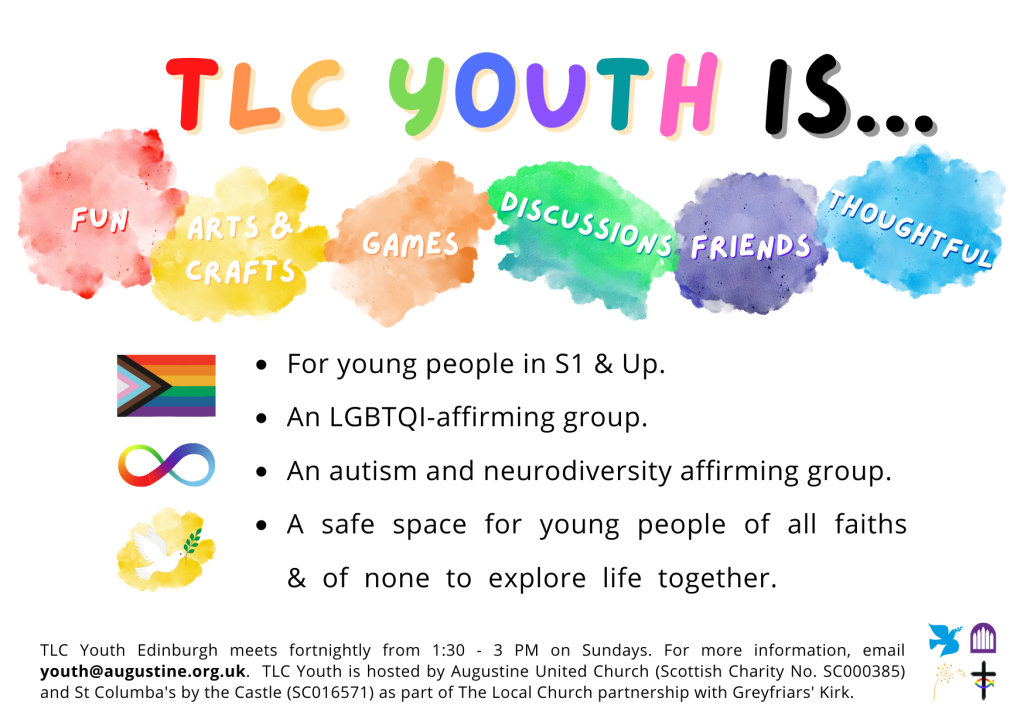 TLC Youth is…
Fun, arts and crafts, games, discussions, friends, a thoughtful space
For young people in S1 & Up
An LGBTQI-affirming group
An autism and neurodiversity affirming group.
A safe space for young people of all faiths & of none to explore life together
TLC Youth Edinburgh meets fortnightly from 1 – 3 PM on Sundays. For more information, email youth@augustine.org.uk.
TLC Youth is hosted by Augustine United Church and St Columba's by the Castle as part of The Local Church partnership with Greyfriars' Kirk.