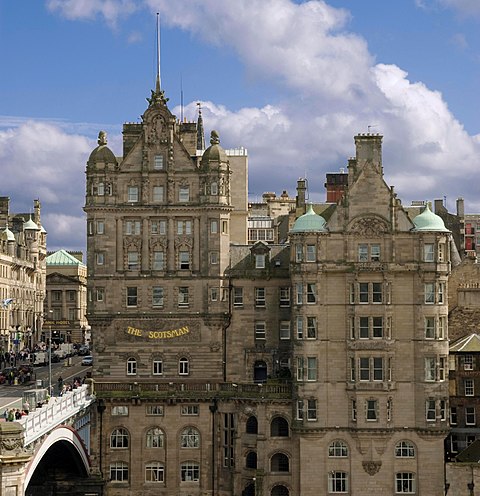 Stop 6 – The Scotsman Hotel (former Scotsman offices)
Our pilgrimage has focused on the contributions of women to the city of Edinburgh over the centuries; but, in a broader sense, we have also been exploring the drive towards equality and diversity, to which Augustine brings its own Christian commitment.
Campaigns for equality and diversity have taken many forms over the years. In 1974, for example, The Scotsman offices were a stopping point for a march organised by the International Gay Rights Congress. The gathering had drawn around 2,000 people from all over the world to the city that year, and the march set off from Teviot Row House, which we walked past right at the beginning of our pilgrimage. In a way, this was a Pride march 21 years before the first actual Pride march.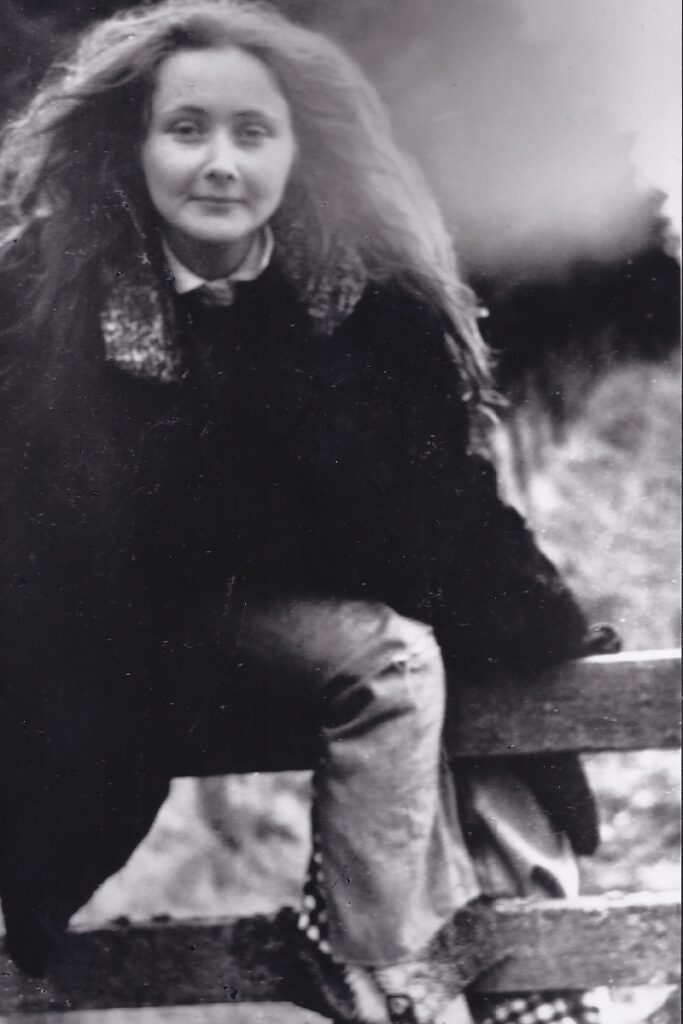 One of the people who worked inside this building for a time was Sue Innes (1948 – 2005) (image left). Sue was many things: a journalist, writer, historian, researcher, teacher, artist and feminist campaigner. One of her lasting gifts to us is the Biographical Dictionary of Scottish Women, which she co-edited.
Sue was committed to helping other women tell their stories. She was a founding member of Women's History Scotland and her book Making It Work described the way life changed for women in the 1990s. In 1995, she was also warning that the newly emerged World Wide Web was not, even then, a safe space for women. Sue described it as "a new medium with an old message: keep out."
With Jo Clifford, Sue formed a lifelong partnership and an unconventional nuclear family. As "John" Clifford, Jo became one of Scotland's most prolific leading playwrights. From childhood, however, she had known she wanted to be a woman and she, like Sue, overcame much to escape the expectations of her upbringing as a boy. (Sue had been raised amongst the strict Christian sect of Plymouth Brethren in Peterhead.)
Since 2009, Jo – who is a member of Augustine's congregation – has become especially well-known for performances of her play The Gospel According to Jesus, Queen Of Heaven: "a kind of communion service" which imagines Jesus as a trans woman. The Scotsman's theatre critic, Joyce Macmillan has written that "though the play is the gentlest of shows, driven by Christian values of love, tolerance, and reverence for creation, it has outraged those who take a traditional patriarchal view of Christianity."
There are many other women that we could have spoken about on our pilgrimage. Women like James Miranda Barry: to all appearances, a man who trained first at Edinburgh, and went on to become an outstanding military surgeon, working in South Africa. It seems likely, though, that Barry was in fact a woman – graduating from Edinburgh University long before its first official female graduates.
How Barry thought of her own gender identity is still debated, but one thing we can be sure of: that by living as a man, James Barry achieved what at the time it would have been impossible for her to do as a woman. We who pride ourselves on advances in equality and diversity in Scotland have to ask ourselves –– to what extent is this still the case?
REFLECTION
In 2015, Jo Clifford went with her daughters to the Glasgow Women's Library and dedicated a section of it to the memory of Sue Innes. On that occasion, Jo recalled something Sue had taught her: that "'the personal is political'. That it was important to live according to our beliefs and bear public witness to our values and that would change the world in more ways than we could imagine."
Sue Innes described the Biographical Dictionary of Scottish Women as a project that sought to move beyond just the well-known figures of history and include "women who were never eminent, but whose lives illuminate the world of ordinary Scotswomen of their time and place, bondagers and bookbinders, fishwives and housewives".
Who are the women who have illuminated our lives? Have they inspired us from their public position – perhaps their position of fame – or have they been the quiet saints among us? As we walk from this pilgrimage back into our different lives and different places of work or play, whose "herstory" would we like to tell to others? Whose life as a woman still needs to be told?
Click here for further information.