Join us at AUC as we celebrate Pride Month.
Pride March – Saturday 24th June 2023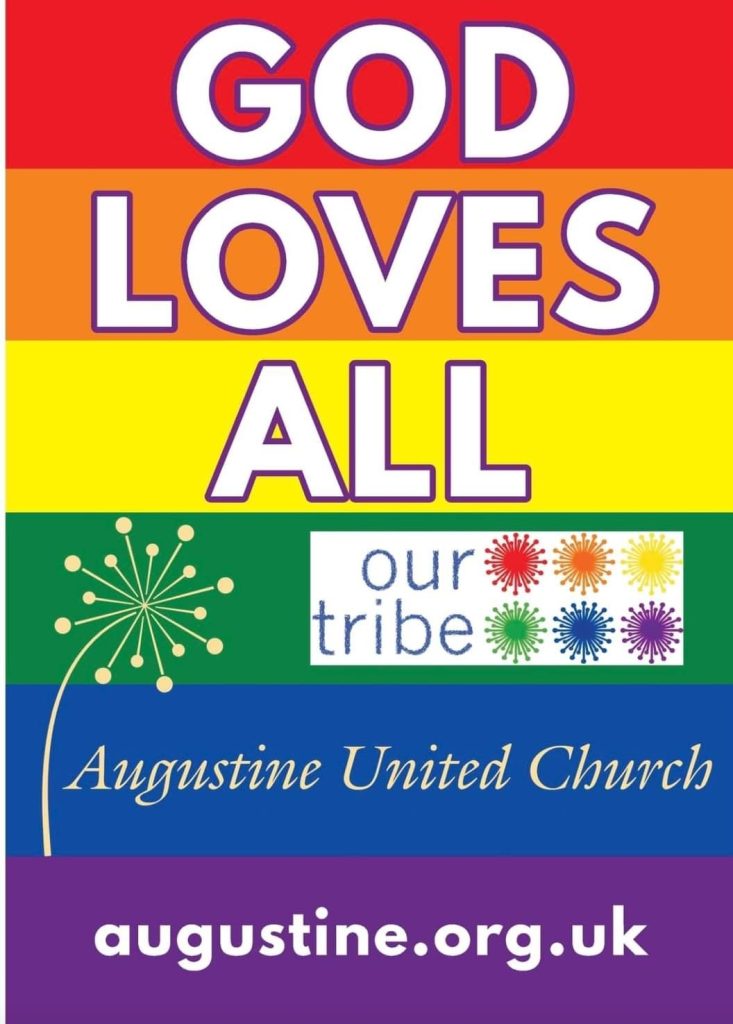 Augustine United Church / Our Tribe will be taking part in the Edinburgh Pride march and having a stall at the Pride Community fair at the Edinburgh University Student Union (EUSA). It would be great if you can join us to carry one of our GOD LOVES ALL placards on the march and then have fun at the community fair.
If you have never been to Pride before this is a great year to start as we celebrate 26 years of Edinburgh Pride (2 years late due to covid delays).
"Myself and Lewis were at the first Pride in Edinburgh in 1995 with a crowd of folks that then became MCC Edinburgh and then evolved into our MCC partnership with AUC/Our Tribe today. We have lots to be grateful and thankful for from over the last 25/7 years in terms of the progress in LGBTQI+ rights and justice matters. We do still have a long way to go, especially in some areas of the globe."

Rev Maxwell Reay
We will gather at Augustine United Church at 10:30 am to pick up the placards and then head to the assembly point outside the Scottish Parliament by 12 noon. We will leave AUC at 11.30 am. Alternatively, if you would prefer not to march in the parade you can remain at AUC and show your support as it goes past the church along George IV Bridge.
We really hope that we have a good turnout of folks from AUC as this is a great opportunity to let folks know about our inclusive church community.
Pride Sunday Service – Sunday 25th June 2023
AUC is celebrating "God Loves All!", as we mark Pride and the end of the school year in worship.
Come OUT with "Our Tribe" LGBTQI+ Social Time – Sunday 25h June 2023
Chance to meet, chat and get to know each other over a cuppa. New people always very welcome
We'll be meeting at Coffee Saints (Little King St, Edinburgh, EH1 3AR – Opposite the side entrance of John Lewis) from 1:30pm to 3:30pm
Look out for the Rainbow flag on our table
Any questions or for further information contact:
Rev Maxwell Reay on maxwell.reay@augustine.org.uk