David Townsend reviews 'Apeirogon' by Colum McCann  (From Seeds June 2021)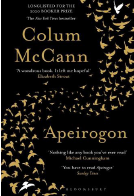 This is a quite extraordinary book. It's both a novel and a real-life drama. It's about two friends: Rami Elhanan and Bassam Aramin.
Rami is a Jewish Israeli and Bassam a Muslim Palestinian – men on opposite sides of the age-old conflict at the centre of this month's Seeds.
But Rami and Bassam have several things in common: they're both fathers; they have both lost young daughters (Rami's daughter to a suicide bomber and Bassam's to a rubber-coated bullet fired by a trigger-happy member of the Israeli Defence Force); and they are both members of the Parents' Circle* – an organisation set up by the bereaved families of both Israelis and Palestinians.
Rami and Bassam have dedicated their lives to telling and retelling their stories to whoever will listen. They don't hold back any punches; neither do other members of their families in describing their own experiences.
It's a book that is at once both raw and beautiful. In writing it, Colum McCann doesn't sugar-coat their lived experience. Indeed, he describes the day-to-day experience of Rami and Bassam both within their own communities, and as they engage in the realities of life in Israel, the West Bank and beyond.
It's a book of both devastating loss and grief, and of hope. It's stark and devoid of sentimentality, yet it depicts the friendship and fraternity that arises when two men, and their families, lay aside all that would separate them, and unite to tell their stories – stories that need to be heard, both by those in their divided communities, and by you and I living in peace and comfort some 2,500 miles from their homeland.
Like many of the Biblical writers,
Colum McCann has woven real life – the lived experience of Rami and Bassam – into the story he tells. But the central characters are real and the central events happened.
Today, the characters might bear different names but the events repeat themselves.