From Seeds December 21 / January 22
In the summer, AUC members voted on a range of designs and the winning tartan has now been forwarded for registration with the Scottish Register of Tartans.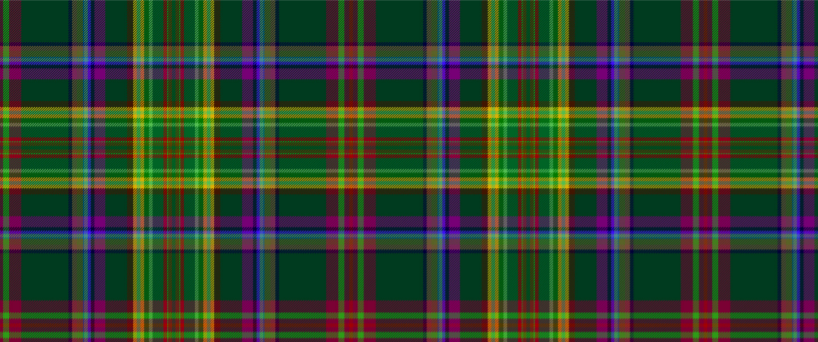 Pat Tweedie, who has guided the process, says she hopes that registration will be complete by the end of the year and that the tartan can be launched at AUC's Burns meal in January.
The colours of our new tartan were prompted by the church's only stained glass windows, created by 'the other' Robert Burns, a noted glass designer and artist who lived from 1869 to 1941. These colours, which can be found in the windows at the front of the sanctuary, interweave over a rich green background, representing the congregation's commitment to raising environmental concerns (we are an eco-congregation) and justice issues more broadly.
Our motto is 'Growing seeds of justice and joy', which we believe encapsulates the Christian task of establishing God's Commonwealth on earth. It is no coincidence that Christian Aid Scotland has its offices at AUC and that the congregation has partnered with other justice organisations over the years.
The tartan has been created in a year when we have marked 160 years since our building on George IV Bridge was opened.
Because we are a congregation that has formed over the years from congregations and traditions worshipping in different parts of Edinburgh, some of us trace our roots to other buildings and religious experiences. We link our current building with the congregation that moved here from a chapel that stood where the National Museum of Scotland now dominates Chambers Street.
That congregation saw itself as part of the "radical" Scottish Reformation that extended across Scotland in the closing years of the 18th century, led by James and Robert Haldane. Their supporters included John Aikman, who built (with his own money) the chapel in North College Street.
When the site was bought up in order to build what is now the National Museum, the congregation moved to George IV Bridge, led by the Revd Lindsay Alexander, one of Edinburgh's foremost preachers of the day. It was in his honour and that of his wife, Mary, that the two windows were gifted by their son, and it is the vivid colours and design of these windows that have inspired our new tartan.